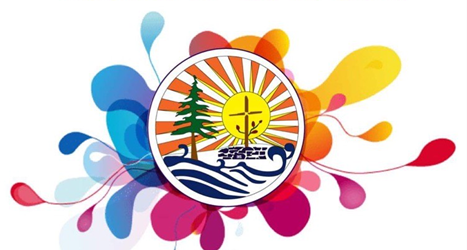 Slumber Falls Camp continues to be a beacon of hope for children and youth of all ages with its all-inclusive summer programming. This year we are excited to announce a new camp called Color Splash, a four-day, LGBTQ+ focused, summer camp experience.
Color Splash will promote an intentionally safe and brave space that welcomes all youth from our South Central Conference churches, and beyond that to other churches, denominations, and faiths.
Rev. Yadi Martinez, Associate Pastor at New Church – Chiesa Nuova, UCC in Dallas Texas, will be directing the Color Splash Camp for Junior High and Senior High age groups. Programming for both age groups will run parallel, each with its own appropriate age group activities. Programing for these four days will include:
Empowering workshops.
Open and affirming spiritual and worship opportunities
Opportunities in the musical, visual and performing arts
We know that many LGBTQ+ young people face significant challenges, anxiety and fear when participating in Christian or other faith-based programs and camps. Yet we also know the life changing experiences that a camp like Color Splash can offer young people as they seek to live into their true authentic selves. 
Slumber Falls Camp is an inclusive and empowering environment that opens its doors to all LGBTQ+ youth and their allies. Please join us in prayer as Slumber Falls prepares for summer 2022. And let us rejoice as a conference as we continue to be the church, creating a just world for all. 
For more information visit Slumber Falls at  https://slumberfalls.org
Or email at [email protected]
Registration links:Junior High Track
https://www.ultracamp.com/info/sessiondetail.aspx?idCamp=505&campCode=sfc&idSession=342138
Senior High Track
http://www.ultracamp.com/info/sessiondetail.aspx?idCamp=505&campCode=sfc&idSession=342154