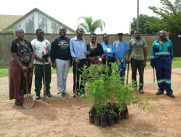 Over the course of 50 days in 2013, the United Church of Christ planted over 141,000 trees as part of Mission 4/1 Earth, which Faith UCC participated in. We planted the two large Crepe Myrtle trees on the edge of our north parking lot. In celebration of the 50th anniversary of Earth Day on April 22nd, this year UCC is seeking to plant over 50,000 trees in ten days from April 17th to 26th. Trees, one of God's precious gifts, provide us not only with beauty, but we depend on them for the air we breathe and the stable climate we inhabit.
Faith UCC will participate in three different ways:
We will participate in our UCC Global Ministries partnership with Theological Education by Extension in Zambia which will train new Climate Ambassadors who will plant trees on our behalf in communities across Zambia. Faith UCC will be taking up a special offering to support this program. For a donation of $12 they will plant one tree on your behalf in Zambia and you will help support this program. Deadline to donate is April 26. Write "Trees" on the memo line.
Faith UCC will be planting a tree on our church grounds in memory of Ken Triesch on Sunday, April 26th.
Church members are encouraged to plant a tree in their yard or elsewhere. You can also make a donation online to one of the 4 UCC National projects or a project of your own choosing. Here is a link for the UCC programs https://www.ucc.org/plantatree
The UCC is expanding the scope of its collaborative efforts in 2020, the Ministry of Environmental Justice for the United Church of Christ has partnered with Interfaith Power and Light to make this tree planting campaign part of their Faith Climate Action Week.