Submitted by Rev. Arlene Turner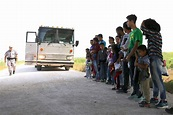 Join us in discerning, planning, and putting into action efforts to respond to the spiritual, physical, and social justice needs of immigrants in Texas and Louisiana.
Team meets every 4th Thursday on Zoom. The next meeting is Thursday, September 23 at 6:30 pm.
Meeting ID: 602 838 8503
Passcode: scc
For further information, please contact Rev. Arlene Turner or Rev. Crystal Silva-McCormick.