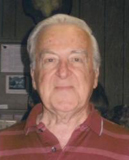 Kenneth Triesch peacefully passed away on February 14, 2020 in New Braunfels at the age of 95. He lived a life filled with music and service to others.
A direct descendant of New Braunfels' original German settlers, Ken was born on August 30, 1924, the eldest child of Walter and Adeline Triesch. He grew up on a farm in Solms, and graduated from New Braunfels High School…
Ken's musical talent was evident at a young age–his first professional job was at the age of 6, when he was paid to sing at a wedding. As he grew up, he developed a powerful baritone/bass voice. He was a church organist and choir director for 75 years (locally at First Protestant, St. John's Episcopal, and Faith UCC), sang for innumerable weddings and funerals, and worked as a cantor at Temple Beth-El in San Antonio. He appeared several times in operas in San Antonio (both in the chorus and in featured roles), at Circle Arts Theater in New Braunfels (most memorably as Ben Franklin in their Bicentennial production of 1776) and in a State Fair production of Miss Liberty in Dallas. He was also a featured concert soloist with various organizations, including the Pan American Symphony, San Antonio Symphony, and Valley Civic Chorus. While living in Mission, Texas, he was named Valley Musician of the Year. He earned a Master's Degree in music education, and spent part of his career teaching high school choir and giving private lessons in voice and piano.
As Ken once said, "A musician also has to eat and live." To support his young family, he worked as a bookkeeper at Airmaid Hosiery's New Braunfels plant and at Eden Home (now Eden Hill) during the 1950s. The contacts made there led to a dramatic change of career when he was invited to become Eden Home's administrator in the late 1960s. In addition to the leadership he brought to the organization for the next 20 years, he also brought music and warm interaction to the residents, and oversaw the expansion of the facilities. In retirement, Ken discovered that he had a talent for painting. He took classes and produced many works during his later years. Throughout his life, he was also an avid gardener and had an enviable green thumb. Ken was a member of Faith UC C, and was active in the Lion's Club, Men's Garden Club, and the local chapter of the National Iris Society. He also volunteered many hours for Meals on Wheels, S.O.S. Food Bank, and the New Braunfels Art League.
In 1948, Ken married Betty Pfeuffer Triesch. During their 61 years together, they had four children. He was preceded in death by his parents, his brother Randolph ("Rennie") Triesch, his son Bruce Triesch, and his wife Betty. He is survived by his sister Grace Triesch Dreyer, his daughter Wendy Triesch Reinke, sons Mark Triesch and Jonathan Triesch, grandchildren Joshua Reinke and Jenna Reinke, great-grandchildren Embyr Reinke and Jack Reinke, nieces Gayle Dreyer Stroh and Susan Dreyer Ziperman, and nephew Wayne Triesch….. Ken's memorial service was held on Sunday, February 23rd at 1:30 p.m. at Faith UCC.