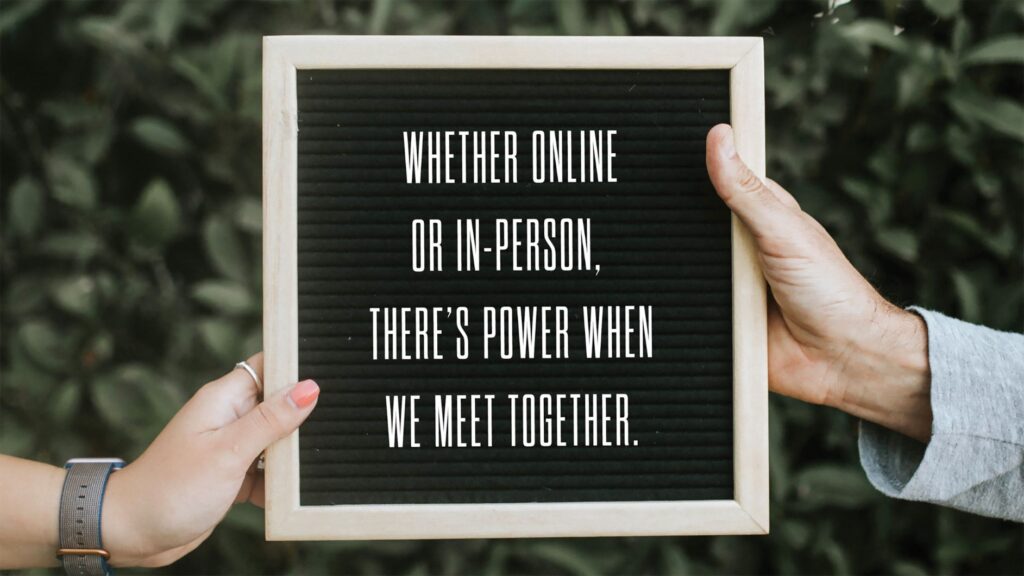 We're putting worship services online so you can watch them anytime on Facebook or eventually they'll be on our YouTube Channel.

If you see the date has a hyperlink, that video is on Facebook.
If you see a video preview, that will be on YouTube.
If not linked, then video is unavailable.
We hope you enjoy.
2022 Worship Services
August 28th – Pastor Carla
August 21st – Pastor Carla
August 14th – Pastor Carla
August 7th – Pastor Carla
July 31st – Pastor Carla
July 24th – Pastor Carla
July 17th – Pastor Carla
July 10th – Pastor Carla
July 3rd – Pastor Carla
June 26th – Pastor Carla
June 19th – Philip Graves, guest preacher
June 12th – Pastor Carla
June 5th – Pastor Carla
May 29th – Conference Worship
May 22nd – Pastor Carla
May 15th – "I Want To Know What Love Is" – Rohn Armstrong, guest preacher
May 8th – Pastor Carla
May 1st – Pastor Carla
April 24th – Pastor Carla
April 17th – Easter – Pastor Carla
April 15th – Good Friday – Pastor Carla
April 10th – Palm Sunday – Pastor Carla
April 3rd – Pastor Carla
March 27th – Pastor Carla
March 20th – Pastor Carla
March 13th – Pastor Carla
March 6th – Pastor Carla
March 2nd – Ash Wednesday Service – Pastor Carla
February 27th – Pastor Carla
February 20th – Pastor Carla
February 13th – Pastor Carla
February 6th – Pastor Carla
January 30th – Pastor Carla
January 23rd – Pastor Carla
January 16th – Rev. Jeremy Albers
January 9th – Pastor Carla
January 2nd – Pastor Carla
2021 Worship Services
December 26th – First Sunday After Christmas – Pastor Carla
December 24th – Christmas Eve – Pastor Carla
December 19th – Fourth Sunday of Advent – Rev. Cam Burton
December 12th – Third Sunday of Advent – Pastor Carla
December 5th – Second Sunday of Advent – Pastor Carla
November 28th – "Jack in the Box" – Pastor Carla
November 21st – Pastor Carla
November 14th – Pastor Carla
November 7th – "Worthy, Not Deserving" – Pastor Carla
October 31st – "Listening" – Pastor Carla
October 24th – "Take Heart; Get Up" – Pastor Carla
October 17th – "Relationships With Power" – Pastor Carla
October 10th – "Unpacking" – Pastor Carla
October 3rd – "Communion" – Pastor Carla
September 26th – "For Such a Time as This" – Pastor Carla
September 19th – "Grow Justice, Know Peace" – Pastor Carla
September 12th – "What We Forfeit—Old Security, New Life" – Pastor Carla
September 5th – "Getting Schooled" – Pastor Carla
August 29th – "Who's the Fairest?" – Pastor Carla
August 22nd – Rev. Nikki Stahl
August 15th – "Coke Machine God" – Pastor Carla
August 8th – Pastor Carla
August 1st – Pastor Carla
July 25th – "Feeding Imperfection" – Pastor Carla
July 18th – "Coming Home" – Pastor Carla
July 11th – "Life's a Dance" – Pastor Carla
July 4th – "What We Leave Behind" – Pastor Carla
June 27th – "Healing?" – Pastor Carla
June 20th – "Running Toward, Not From" – Pastor Carla
June 13th – "Sharing God's Vision—Evangelism by Example" – Pastor Carla
June 6th – "Whom We Follow" – Pastor Carla
May 30th – "Our Adopted Faith" — Pastor Carla
May 23rd – "The Greater Miracle" — Pastor Carla
May 16th – "The Family We Choose" — Pastor Carla
May 9th – "Chosen, Not Favored" — Pastor Carla
May 2nd – "Yo, God" — Pastor Carla
April 25th – "God as a Border Collie?" — Pastor Carla
April 18th – "Of Wild Geese and Giving Trees?" — Pastor Carla
April 11th – "Hide or Go Seek?" — Pastor Carla
April 4th – Easter Sunday – "Dangerous Peace" — Pastor Carla
April 1st – Maundy Thursday Worship Service
March 28th – Palm and Passion Sunday Worship Service
March 21st – "God with Skin On" — Pastor Carla
March 14th – "Hope or Superstition?" — Pastor Carla
March 7th – "Freedom" — Pastor Carla
February 28th – No Peace, No Justice!" — Pastor Carla
February 21st – "Presence" — Pastor Carla
February 17th – Ash Wednesday Worship Service
February 14th – "Transformed" — Pastor Carla
February 7th – "Sustained" — Pastor Carla
January 31st – "Healed Healers" — Pastor Carla
January 24th – "No, REALLY, Called…" — Pastor Carla
January 17th – "Called" — Pastor Carla
January 10th – "Named and Claimed" — Pastor Carla
January 3rd – "BuildingHope, Lighting the Darkness" — Pastor Carla
---
Offerings can be made here:
---
Other Videos: