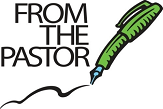 Usually when a pastor leaves a church he or she is going to another church and so they leave the area and are not available to do weddings and funerals, etc.   I am planning to retire and stay here in New Braunfels.  Even though I will still be in the area.  PLEASE do not ask me to perform any pastoral/professional functions.  The UCC "A Pastoral Vacancy: Guidelines for the Departing Pastor and the Governing Board" is quite clear on this:
"The personal relationships established within a parish setting sometimes make it difficult for both the pastor and the people to remember that the role is a professional one governed by a professional code of ethics. And that code of ethics mandates that the professional relationship cease at the end of the term of service in a church. As a pastor, you have an ethical obligation not to 'intrude upon the ministry of my successor." Intrusion includes performing pastoral services (funerals, weddings, baptisms) as well as conversing with members about church life or decisions the church is considering."
As you can see the guidelines are quite clear on this and I would ask your help in helping me honor these guidelines. When my predecessor, Rev. Lee Zillmann left Faith UCC to take up a position as a chaplain in the local hospital he followed these guidelines and it made my transition to being the pastor of Faith UCC much easier. I want to do the same for whoever follows me, for both the interim and whoever the settled pastor will be.
This also means that I will not be attending Faith UCC when I retire. Instead, I will be attending other UCC churches in the area.
Please understand that this does not mean I won't continue to care about you individually or for the church, far from it. I value my relationship with each and every one of you highly and will continue to do so. I will also continue to care very much about Faith UCC church. I've only served four churches in my career and it is not an overstatement to say that God has blessed me greatly by allowing me to serve Faith UCC these last 15 years. In many respects God saved the best for last. I will continue to pray for you and for Faith UCC church. I am reminded of the Apostle Paul's words to the church in Philippi, his favorite church, "I thank God every time I remember you, constantly praying with you, because of your sharing in the gospel from the first day until now. I am confident of this, that the one who began a good work in among you will bring it to completion by the day of Jesus Christ." (Phil 1:3-6)
Grace and Peace, Pastor Scott